PPA/PPE Portable
Test range: up to 4000 bar (58,000 psi)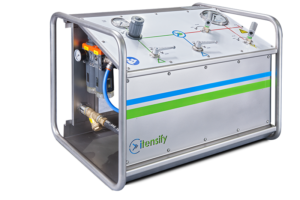 The PPA/PPE high pressure unit will perform a pressure test in a safe, ergonomically and fast way. The unit is easy to move as the unit is light and compact. The PPA/PPE is self-containing, ready to use and is suitable for handling tap water as high pressure fluid (for other liquids such as oil, water/oil and water/glycol please contact Itensify).
Air drive or electric drive
The PPA is air driven and has a test range up to 4000 bar. The PPE is electrical driven and has a test range up to 100 bar. With the electric drive there is no need for air at the test location. Read here the differences between electrically driven test systems and air driven systems.
The PPA/PPE can also generate drive power for e.g.: hydraulic tools (scissor, jack, torque and bolt tensioning), hydraulic cylinders, clamp units and presses.
Features:
One valve operation to bleed down pressure
Gauge with safety glass
Easy reading and operation due to angled panel with clear instructions
Easy to connect to test object
Easy and accurate pressure setting
Durable due to stainless steel frame and panels
Continuity through high quality, smart and solid system set up
Download brochure PPA/PPE Portable