HSC Custom
Test range: up to 4000 bar (58,000)

The HSC Custom high pressure unit is a ready to use high pressure unit with an integrated test room in a container. It enables safe, fast and accurate high pressure testing in a spacious  test room, suitable for large test objects.
Air drive or electric drive
The HSC can be selected with an air drive or an electric drive. The electric drive has many advantages, such as low noise level, low cost of maintenance and low use of energy. The electric-drive is suitable for severe testing. An air-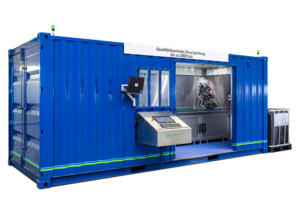 driven system is recommended for less severe applications.
Manually operated or computer controlled
The HSC Standard is the manually operated version. The HSC Advanced is the computer controlled version. The hand- or automatic operation can be remotely from the outside of the test room or in an integrated and safe operator room.
Features
10 ft. shipping container (other lengths are possible)
Test room is equipped with easy access locks on the right door, high pressure test outlet and return connection, stainless steel floor with 2 off drain connections, stainless steel workbench, LED units, access control, and emergency button
Operation is via a WPA or WPE high pressure unit
Pressure limiter can reduce the maximum outlet pressure and can be blocked or locked
Test pressure gauge with safety glass and reading in bar
Test medium (Fluid): Water, water-oil- and water-glycol emulsions