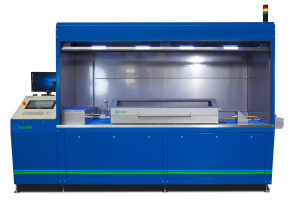 We offered our client a solution in the form of a HSP Pro Advanced with an electric drive. The electric drive guarantees a fast and accurate pressure test with lower energy consumption. The pressure test bench was also delivered with EasyLogging software which ensures all data is recorded and test certificates are provided within seconds after the test.
Measuring the change in length
The HSP Pro is equipped with length measurement. During this measurement, the change in length is measured at a specified pressure. This change in length can be both longer or shorter. The test pressure for the length measurement varies per phase. In this case, the hose is tested at each stage during the production process. As a result, it is timely signaled whether the hose meets the requirements.
Insight into the maximum pressure
As part of the qualification test, this HSP Pro also contains a burst box. During a burst test the aim is to measure how much pressure the hose can handle within the set time and set pressure. When the length measurement is done, the measuring equipment will be removed in order to start the burst test. Subsequently, both the burst box and the test room are closed. This creates a double protection. In case of continuous bursting, the burst box also offers protection to the test room. A safe solution of any type of burst test.
Would you like to know more about the options for a length measurement and/or burst test for your pressure test process? Please feel free to contact us.